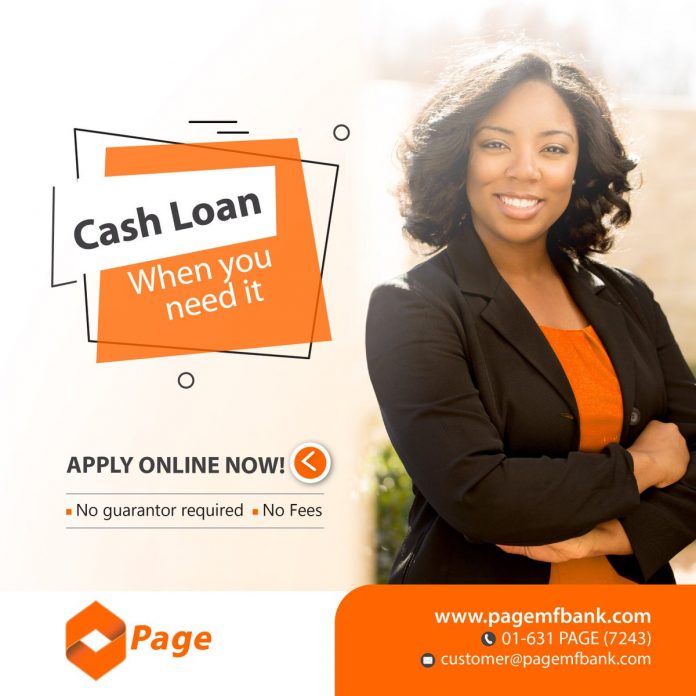 Skytrend Loans Series: Getting quick loans from Page Financials
Small businesses need loans to sustain their working capital, to invest and expand their productive capacity for better output and increased bottom line. Without the access to funds and funding which most times are through loans, small businesses run the risk of becoming stunted, unproductive and unsustainable.
In Nigeria, small businesses contribute 48% of national GDP, account for 96% of businesses and 84% of employment. According to the Nigeria Bureau of Statistics, (NBS), small and medium scale enterprises (SMEs) in Nigeria have contributed about 48% of the national GDP in the last five years.
Individuals also need quick loans to meet their payment obligations sometimes before their salaries are paid.
Skytrend Consulting is thus introducing its special Loan Series Topical areas focusing on how small and medium scale businesses and individuals can obtain loans in Nigeria for their business expansion and individual financial obligations respectively.
Page Financials is the 1st in our Loan Series for Small businesses and individuals.
About Page Financials
Page Financials says they want to be the one-stop-shop when you need urgent cash, extra income or any other financial services.
The company is licensed by the Central Bank of Nigeria (CBN) and have over 6 years' experience in providing cutting edge digital solutions. Their mission is to empower their customers to be financially smart.
Do you have an urgent need for cash to settle bills, take care of emergencies or grab an opportunity? Does payday seem so far and bills are piling up? Page Financials say their "convenient, secure and instant loans can help you out."
The organization says you can apply for a loan now and get the funds in less than 3 hours.
Simple Repayment Terms And Rates
There are no hidden charges, repayment terms are clear and convenient, and you don't need to have a cheque book.
Hassle Free
Easy to use tools from anywhere. Instant cash immediately your loan is approved . No gimmicks, confusing terms or hidden charges.
Instant Cash
Whenever or wherever you need cash, we're right there.
Representative example: Loan amount of ₦3,500,000 borrowed for 12 months. Monthly Interest Rate:- 2.99%. No other fees.
Minimum and maximum loan term: 3 – 12 months.
Contact Details:
Phone:- 017007243. Email:- customer@pagefinancials.com
For more information on how to apply for the Page Financials quick loan, Click HERE
We are an accounting software solutions company. When it comes to implementing suitable and cost effective accounting software solutions for your business, we are the EXPERT! Book A Call TODAY. Call or Whatsapp 0803 385 7245 or 0803 239 3958 for a free presentation or demo.
READ ALSO! Accounting software implementation: 5 key stages in a new accounting system
READ ALSO! Skytrend Consulting: Financial services and accounting solutions company
READ ALSO! SAGE 50 ACCOUNTING SOFTWARE: 8 KEY BENEFITS FOR YOUR BUSINESS
READ ALSO! SAGE 50 PEACHTREE ACCOUNTING SOFTWARE – ALL YOU NEED TO KNOW
READ ALSO! BBNaija Dorathy Launches Lingerie Line, Says Priority Is Making Busty Women Look Good
READ ALSO! How To Empower Yourself And Generate Income From Mutual Funds
READ ALSO! Why The North Remains Headquarters Of Poverty In Nigeria — Kingsley Moghalu