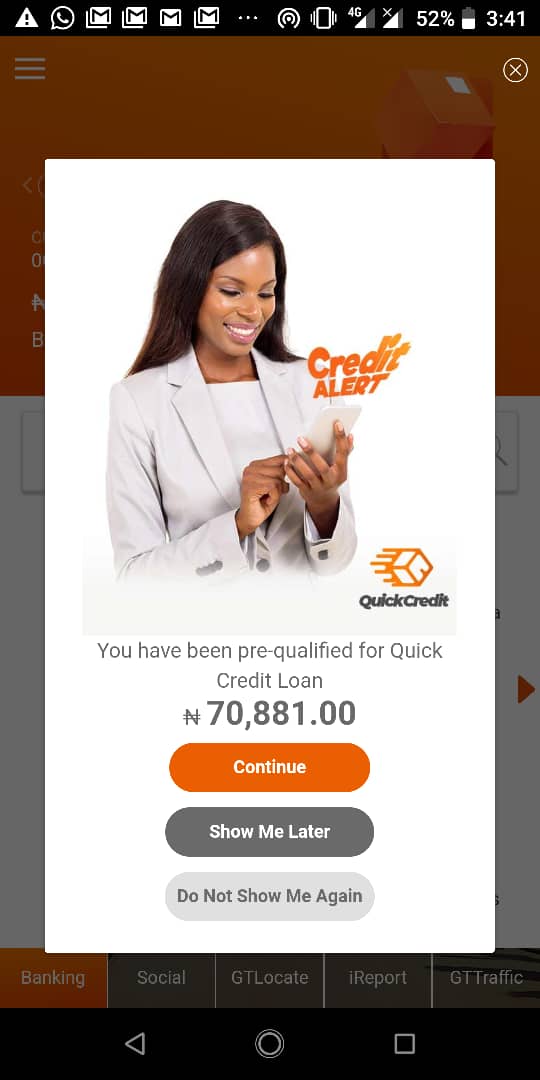 Since the Central Bank of Nigeria (CBN) has requested banks to have a minimum loan to deposit ratio, commercial banks in the country have been finding ways to give out loans
to customers. In fact some banks were penalised some weeks ago due to default in this regards.
Some of the banks have now unveiled quick loans and salary advances to their customers mostly secured by their monthly salaries because you do not require any collateral security to get them.
Also some banks like GTB monitors the turnover rate in your current account and even without any specific salary account with them, you can easily access their quick no collateral loans even from the comfort of your house and smart phone.
All you need is to be consistent with your deposits and withdrawals in these banks and like GTB and most others, you will be pre-qualified for a amount depending on your analysed limit.
Good enough, the loans come with single digit interest rate which are quite flexible and easy to repay and there are no need for any guarantors or guarantee. Also you do not need to present post-dated cheques.
1. GTB
GTBank launched Quick Credit to provide funds worth up to three months of your salary in less than two minutes. As long as your salary account is domiciled in GTBank, you can get a minimum amount of N10,000 and a maximum of N5million.
Quick Credit gives you funds worth up to three months of your salary at a competitive interest rate of 1.75% per month. There are no hidden charges incurred; it is cheap and readily available. You can open an account with GTB if you don't have any yet.
Also GTB offers pre-qualified quick credit loan depending on your turnover amount in your account. The amount your pre-qualified depends on the amount of deposit and withdrawals happening in your account overtime. No need for any colateral, guarantees, or paper work.
Quick Credit is available on all GTBank online and mobile banking platforms.
2. Zenith Bank
Zenith Bank offers its customers Salary Advance loan, meant to finance short-term needs or expenses that may come up before the next monthly salary. It is available to confirmed and professional salary account holders of selected companies.
With an interest rate of 26% per annum, which is 2.16% per month, the bank also charges a 1% flat Management Fee subject to a minimum of N5,000.
Nairametrics gave the requirements of Zenith bank salary advance loan:
Salary and allowances of applicant must be domiciled in Zenith Bank.
Indemnity clause giving the bank Right of Set-off in any other bank using BVN.
Applicants are able to borrow 60% of their monthly salaries.
3. UBA
UBA unveiled quick advance loans for its customers. It is a short-term facility that allows you to overdraw a maximum amount of N3 million on your current account for up to six months, according to Nairametrics.
By having to repay 5% every month till the end of the 6 months tenor when you have to repay the total outstanding, you are assisted in managing your finances.
The initiative also gives you the money you need when you do not have sufficient funds in your account with considerate, structured and convenient terms of repayment.
The bank's target audience are executives, partners and mid-level management staff of reputable organisations in the private or public sector, who are confirmed and earn an after tax annual income of N5 million.
4. Access Bank
Access Bank launches PayDay Loan to aid the bank's existing and potential depositors' emergency needs, which may arise before payday, according to Nairametrics.
It is an instant loan product for customers (both salary and non-salary earners). With Payday Loan, you can borrow money at low-interest rates, with no documentation or collateral needed.
Features of loan:
24/7 service that does not require visits to the bank.
No documentation required.
No collateral required.
Up to thirty-one (31) days tenor.
Interested? You can get access to an instant loan via Internet Banking, WhatsApp Banking, Access Mobile App and QuickBucks App.