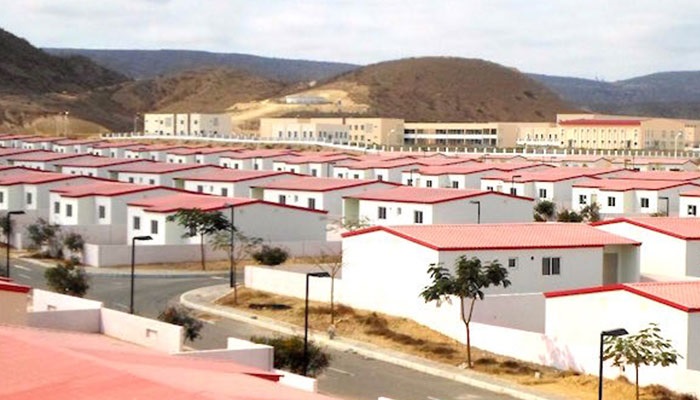 CBN kicks off N200bn loan for social housing programme
The Central Bank of Nigeria (CBN) says it has kicked off its social housing programme for Nigerians as part ofthe Nigerian government Economic Sustainability Plan 2020.
The apex bank adds that in the light of this, it will release a cumulative maximum limit of N200bn to provide construction finance facility to enable Family Homes Funds Limited to implement the Federal Government's Social Housing programme as part of the Economic Sustainability Plan 2020.
The CBN disclosed this on Tuesday in a report on 'Framework for the implementation of family homes financing initiative'.
Part of the report read, "Funds would be released to FHF on project basis subject to the cumulative maximum limit of N200bn.
"A project is defined as cluster of homes in the same geographical location and covered with the same title documents and approvals."
According to the CBN, mass housing construction is among the key economic activities with potential to create significant number of jobs rapidly.
"It is in the light of this that the bank introduces this financing initiative to support the Federal Government's Economic Sustainability programme to fast track the deployment of 300,000 homes in the 36 states of the federation and the Federal Capital Territory and to create up to up to 1.5 million jobs in five years," it said.
The CBN said the initiative was to be implemented in collaboration with Family Homes Fund Ltd as the lead developer and eligible obligor.
It said, "The programme is designed to utilise at least 90 per cent locally manufactured inputs and as a result conserve foreign exchange.
"In that regard the programme will deliberately aim to revitalise local manufacture of construction materials including doors and windows, ironmongery, sanitary fittings, concrete products, tiles, glass, electrical fittings/fixtures and bricks among others.
Call 0803 239 3958 for free financial consulting advice for your businesses. Attend our monthly Peachtree Sage 50 accounting and reporting seminar.
Send your accounting articles to blog@skytrendconsulting.com.
READ ALSO! Skytrend Consulting: Financial services and accounting solutions company
READ ALSO! Why The North Remains Headquarters Of Poverty In Nigeria — Kingsley Moghalu
READ ALSO! For failing to give out 'adequate loans', 12 banks fined N499bn
READ ALSO! Nigerian Central Bank Approves Disbursement Of Loans For Creative Industries At 9%
READ ALSO! How To Empower Yourself And Generate Income From Mutual Funds
READ ALSO! Is N-Power Truly Empowering Nigerian Youths?
READ ALSO! TraderMoni: Poverty Alleviation Or Political Leverage?