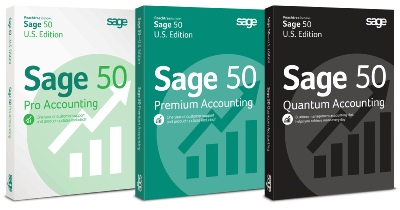 Sage 50 Accounting Software: 8 key benefits for your business
Definition of an accounting software
Accounting software is a computer program that allows automation of financial records and processes and assists accountants, store managers and business owners in maintaining, posting and reporting an organization's financial transactions within a functional system.
The software solution contains modules such as customers, vendors and suppliers, sales ledger, purchases ledger, accounts receivable, accounts payable, journal, payroll, direct cost (cost of sales) and indirect cost (administrative expenses), assets, liability, trial balance, general ledger, etc. Basically it functions as an accounting information system.
With it, you can record transactions, generate reports, manage customer and vendor contacts, create purchase and sale orders and invoices, manage and track stock levels, bill customers, and monitor cash and bank account movement and balances.
How does Sage 50 Peachtree Accounting Software Works?
Sage 50 Accounting Software solution contains all the definition and functions of a good accounting software as given above when properly implemented and staff effectively trained.
It is easy to use and designed to automate financial transactions of business organizations as most accounting software do. Whether you are managing a trading company, hotel, manufacturing company, consultancy business, school, logistics company or a service oriented business, the software can be customized to fit your specific business needs.
The software helps organizations achieve more by simplifying everyday tasks so you can get more work done, helps you get to your data faster and provides tools to help increase organizational efficiency and financial recording accuracy.
Specifically the software has features to set up your charts of accounts for your business, and implement a workable system that gives you daily, weekly, monthly reports of your business and finances.
With the software, you can easily determine your turnover, direct & indirect cost, profitability, track and maintain inventory, cash and bank balances, to mention just a few.
7 key benefits of using Sage 50 Accounting software for your business
1. Manage the company's payments, collections, receivables, cash and bank balances by the use of the automated solution.
2. Gain insight with periodic reporting for turnover, costs, profit, and cash flow management.
3. Get a high-level view of your key business and financial metrics.
4. Reduce errors and easily reveal, deter fraud with screen-level security and a clear audit trail
5. Work more efficiently with customer, vendor, and inventory management centers
6. Save cash and reduce costs using "what if" scenarios and your real-time financial information.
7. Periodically produce income and expenditure reports and balance sheet for the business and analyse financial trend at a glance.
8. Help to reinforce the internal control system of your organisation
About Skytrend Consulting?
Skytrend Consulting Ltd is an expert in accounting software solution implementation.
We have our head office at No 7 Obokun Close, Off Allen Avenue, Ikeja, Lagos. While our South West zonal office is located at Ado Ekiti. 6 Surulere Street, Off Road 1, Nova Road, Adebayo, Ado- Ekiti, Ekiti State.
When it comes to implementing suitable and cost effective value driven accounting software solutions for businesses, we are the EXPERT! And we have been doing this for over 10 years.
Our job is focused towards analyzing turnover, optimizing cost, facilitating business growth and improving steady profitability with the use of tailored and well tested accounting solutions that identify and build on the strength of our clients' organisations.
Our testimonials from the different clients and businesses we have worked for and currently using our solutions, speak volume on the value our services have added to their business.
You can reach us on telephone/whatsapp message on 08033857245 or 0803 239 3958. You can also send us an email info@skytrendconsulting.com
Need an accounting software solution for your business? Whatsapp us on 0803 239 3958. You have an article or review on financial implementation or an accounting solution you want us to publish, send to blog@skytrendconsulting.com.
READ ALSO! Accounting software implementation: 5 key stages in a new accounting system
READ ALSO! Skytrend Consulting: Financial services and accounting solutions company
READ ALSO! Why The North Remains Headquarters Of Poverty In Nigeria — Kingsley Moghalu
READ ALSO! For failing to give out 'adequate loans', 12 banks fined N499bn
READ ALSO! BBNaija Dorathy Launches Lingerie Line, Says Priority Is Making Busty Women Look Good
READ ALSO! How To Empower Yourself And Generate Income From Mutual Funds