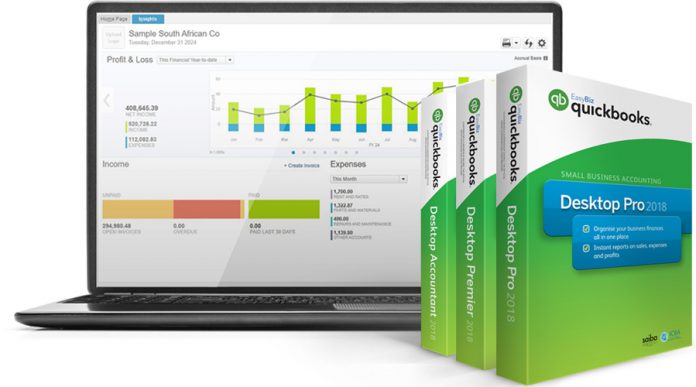 QuickBooks Enterprise: An accounting software with CRM functionalities
Skytrend Consulting is an accounting software solution company incorporated in Nigeria in 2013. When it comes to implementing budget friendly and effective accounting software for small and medium scale businesses, we are the EXPERT!
QuickBooks Enterprise is a financial services software that offers end-to-end accounting solutions without the need for ERP implementation. Designed for growing businesses and non-profit organizations, QuickBooks Enterprise provides a dedicated accounting platform to integrate tasks like payroll, payables, inventory tracking, and more into.
As the most complete version from Intuit, QuickBooks Enterprise Solutions is geared toward the well-developed business that needs advanced inventory management, the ability to create complex reports and increased options for employees' permissions within the software. While it is certainly the most costly version of QuickBooks, it also provides features and tools not available in any other edition and can easily adapt to meet the needs of a growing and changing business.
Despite being a stand-alone system, QuickBooks Enterprise offers advanced features and functionalities that can be tailored according to the type of industry your business caters to, notably manufacturing, wholesalers, and construction segments. Some of these more complex processes and features include advanced pricing, payroll, and inventory tracking. Also added are more data capacity, more sophisticated inventory management, and multiple entities support along with the same feature set consolidation and same navigational scheme and user interface found in other Intuit's products.
Find below other essential features of QuickBooks Enterprise.
Scale with confidence
Not only does Enterprise let you scale from 1 to 40 users* who can all work at the same time, it lets you assign user permissions so staff only have access to the data they need to do their job. Set up new users quickly with 14 predefined user roles. Protect confidentiality by only allowing users to view, edit, or delete specific employees, vendors, or data.
Make better inventory decisions
Help automate your inventory and order management systems with Advanced Inventory.* With our end-to-end pick, pack, and ship functionality, you can manage your entire sales order fulfillment process from start to finish from one central dashboard.
Pay employees fast right inside QuickBooks
Payroll is fully integrated into QuickBooks. No spreadsheets or double checking because your bookkeeping and payroll data is in the same place. Quickly pay employees with printed checks, direct deposit, or both. And with Assisted Payroll, we'll manage your federal and state payroll taxes and filings for you—guaranteed on-time, accurate, and penalty-free.
Gain powerful insights into your business
Get a deep understanding of your business with over 200 built-in, customizable reports tailored to your industry. Plus, with Advanced Reporting* you can create your own reports based on your specific business needs. If the data is in QuickBooks, you can report on it.
Get paid faster and easier
With QuickBooks Payments, you'll see money in your pocket more quickly. Enterprise automatically updates and sends payments directly to the bank, so you'll always know what your bottom line is. And now you can automatically add, match, and record ACH and credit transactions initiated within QuickBooks, including payments received via e-invoice.
Simplify the complexity of pricing
Advanced Pricing lets you control, customize, and automate your pricing to help improve your bottom line, save time, reduce errors, and serve customers better. Easily change prices when you need to, and make exceptions as needed. Just set the price rules and Advanced Pricing does the calculations for you.
Access Enterprise remotely* from any device
QuickBooks Enterprise with Hosting* lets you manage your business from wherever you are. Your data is stored securely in the cloud, not at your office, giving your team access whenever and wherever they need it on a Mac, PC, or tablet. And you can rest assured your data is protected by state-of-the-art security.
Time tracking helps reduce errors and increases productivity
QuickBooks Time Elite* helps you deliver work on time and under budget. Take advantage of mobile time tracking from any device.* Compare budgeted vs. actual hours, assign jobs, and track progress. Plus, managers and clients can easily sign-off on completed timesheets and projects right from the mobile app with our digital signature capture.
Automate more workflows with the Salesforce CRM connector
The Salesforce CRM connector* syncs QuickBooks to Salesforce to reduce duplicate data entry. With one source of data between sales and support, you'll serve customers better, generate sales orders and invoices automatically to get paid faster, and have more visibility into your entire sales pipeline.
Need an accounting software for your business? Hotline: Call or Whatsapp 0803 385 7245 or 0803 239 3958. If you also have an article or review on financial implementation or an accounting solution you want us to publish, send to blog@skytrendconsulting.com.