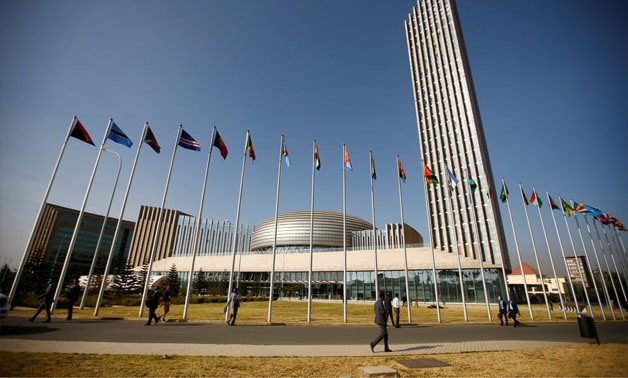 As African Continental Free Trade Area takes off: prospects and challenges
African countries began officially trading under the African Continental Free Trade Area (AfCFTA) agreement on Friday, January 1, 2021, after several months of setback occasioned by the global Covid 19 pandemic.
The deal was originally scheduled to kick off on July 1, 2020, but was made impossible by Covid 19 pandemic
It was in March 2018 that African heads of state and government held an extraordinary summit in Kigali, Rwanda and agreed to establish the Free Trade Area.
Reuters, however, reports that experts view the New Year's Day launch of the pact as largely symbolic with full implementation of the deal expected to take years.
AfCFTA aims to bring together 1.3 billion people in a $3.4 trillion economic bloc that will be the largest free trade area since the establishment of the World Trade Organization (WTO).
Supporters of the deal say it will boost trade among African neighbours while allowing the continent to develop its own value chains. The World Bank estimates it could lift tens of millions out of poverty by 2035.
The AfCFTA, according to South Africa President, Cyril Ramaphosa, will boost intra-African trade, it will promote industrialisation and competitiveness and contribute to job creation, and it will unleash regional value chains that will facilitate Africa's meaningful integration into the global economy.
The AfCFTA will also improve the prospects of Africa as an attractive investment destination. It will help advance the empowerment of Africa's women, by improving women's access to trade opportunities which will in turn facilitate economic freedom for women, and expand the productive capacity of countries.
"To support this, we must strengthen women's participation in the continental economy by ensuring there is greater public procurement earmarked for women-owned businesses. We must ensure that there is sufficient support given to women-owned SMEs and cooperatives in both local and regional economies," the South African leader emphasised
In addition to increased trade flows both in existing and new products, the AfCFTA has the potential to generate substantial economic benefits for African countries. These benefits, according to the International Monetary Fund, include, "higher income arising from increased efficiency and productivity from improved resource allocation, higher cross-border investment flows, and technology transfers. Besides lowering import tariffs, to ensure these benefits, African countries will need to reduce other trade barriers by making more efficient their customs procedures, reducing their wide infrastructure gaps, and improving their business climates.
At the same time, policy measures should be taken to mitigate the differential impact of trade liberalisation on certain groups as resources are reallocated in the economy and activities migrate to locations with comparatively lower costs."
The expectation is that services and goods should be flowing freely in and out of the participating countries, making the continent the biggest free trade area in the world.
The free trade initiative could create an integrated market with a total GDP of over $3 trillion, according to US think tank, Brookings Institution.
The AU says that the agreement will create the world's largest free trade area. It also estimates that implementing AfCFTA will lead to around a 60% boost in intra-African trade by 2022.
But challenges ranging from ubiquitous red tape and poor infrastructure to the entrenched protectionism of some of its members – must be overcome if the bloc is to reach its full potential.
Supply side constraints such as the current government's topsy-turvy macroeconomic and monetary policies as well as underdeveloped physical and institutional infrastructure remain a threat to Nigeria's effective participation in and efficient derivation of critical trade and economic benefits from the AfCFTA. Thus, while market access is there, supply-side constraints limit the country's ability to respond to the opportunities inherent in the AfCFTA and remain a barrier to Nigeria's competitiveness.
The continent currently lags behind other regions of the world in terms of continental trade. According to the African Development Bank (AfDB), intra-Africa exports amount to only 16.6% of total trade.
In 2018, the African Export-Import Bank reported that only 15% of international trade by African countries takes place within the African continent. This percentage compares unfavourably with other continents such as Europe (67%), Asia (58%) and North America (48%).
In July 2019, Nigeria finally signed the AfCFTA after pulling out days before the agreement was due to be signed in March 2018. President Muhammadu Buhari said he needed further consultations in Nigeria.
Trade within Africa is dominated by trade within regional blocs and not trade between regional blocs, therefore, most trade and investment takes place close to home.
Intra-regional trade in sub-Saharan Africa is currently very concentrated, with some 66% of the regional demand for intra-regional exports accounted for by just 10 countries, including Côte d'Ivoire, the Democratic Republic of Congo, South Africa and some other Southern African countries
Tensions continue to exist between smaller and larger states across the continent when it comes to trade and market access. This is because the possible forward and backward linkages between their economies – the creation of transborder value chains – have not yet been established.
As noted by Professor Carlos Lopes of the University of Cape Town in 2018, "once studies have been done, it will be possible to establish which countries can specialise in which elements of which supply chains. For example, the South African car industry uses leather, but South Africa is not a major leather producer; but other African countries could supply the leather. So, the key is to establish these linkages. Once the agreement is ratified, the opportunities will emerge."
For Nigeria, the prospects for increased trade across the continent represents an opportunity to expand its balance of trade as well as its balance of payment.
The country's trade with the other countries that belong to the Economic Community of West African States (ECOWAS) remains poor—as do aggregate trade flows among all the ECOWAS member states. The vast majority of Nigeria's exports to the ECOWAS are mineral fuel and oils, agricultural and manufacturing forming a miniscule percentage of the country's exports to the sub-region. The figures are even more dire when it comes to trade across the wider continent.
Simply put, Nigeria is not doing much trade with other African countries and the AfCFTA represents a veritable opportunity to expand trade, grow the economy and engender development.
In August, just a few months after celebrating its signing the AfCFTA, Nigeria imposed a ban on the movement of all goods from countries with which it shares a land border: Benin, Niger and Cameroon, effectively banning all trade—import and export—with its neighbours. The border closure has impacted Nigerian consumers and exporters with traders being refused entry of goods, even those for which they have already paid customs duties, and consumers facing inflated prices of imported food products—with some products having doubled in price.
The closure of the Nigerian border went against the spirit, and the letter of the AfCFTA, and as noted in a Brookings Institution report, is "inconsistent with its 44-year long commitment to the Economic Community of West African States (ECOWAS), West Africa's Regional Economic Community which Nigeria spearheaded in 1975, and is one of the eight building blocks of the AfCFTA. Under the ECOWAS Protocol, member states committed to the establishment of a common market, including through the liberalisation of trade by abolition, among member states, of customs duties levied on imports and exports, and the abolition, among member states, of non-tariff barriers in order to establish a free trade area…Specifically, all 15 ECOWAS countries are committed to eliminating customs duties, quotas and quantity restrictions and accord each other most favoured nation treatment."
Call 0803 239 3958 for free financial consulting advice for your businesses. Attend our bi-monthly Peachtree Sage 50 accounting and reporting seminar.
Reach us or send your financial updates and articles to info@skytrendconsulting.com.
READ ALSO! Naira free fall: Parallel market not determined by demand, supply forces — CBN Governor
READ ALSO! Skytrend Consulting: Financial services and accounting solutions company
READ ALSO! Why The North Remains Headquarters Of Poverty In Nigeria — Kingsley Moghalu
READ ALSO! For failing to give out 'adequate loans', 12 banks fined N499bn
READ ALSO! Naira plunge: Speculators will suffer huge loss, Operators warn
READ ALSO! How To Empower Yourself And Generate Income From Mutual Funds