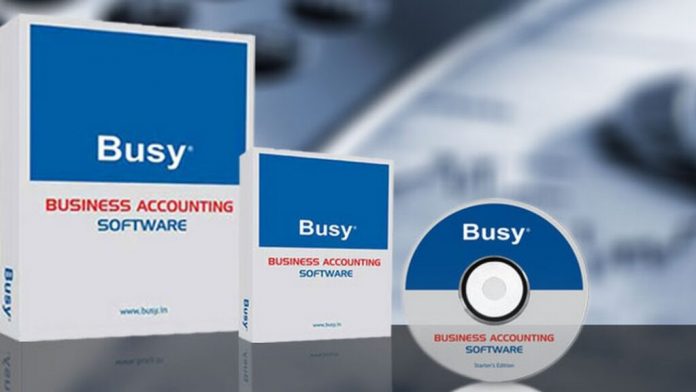 Busy Accounting Software solution : 6 key implementation facts for your business
Busy Accounting Software solution is an integrated business accounting and management software for Micro, Small and Medium Enterprises (MSMEs). The solution was developed in India in 1993 and reported to have sold over 360,000 licenses in over 20 countries. It is said to be the leading business accounting software in India, South Asia, Middle East Asia and parts of Africa.
The software records and processes business accounting transactions within functional modules such as Financial Accounting (Multi-Currency), Inventory Management (Multi-location), Production / Bill of Material for manufacturing businesses, Sales / Purchase Quotations/invoicing, payroll, Sales / Purchase Order Processing, Fully User-configurable Invoicing, User-configurable Documents and Columns in Reports, and provides a basis for the business Management Information Systems (MIS).
The software is thought to be used by mostly MSMEs since it was developed in 1993, by helping them manage not just their accounts but also other business management processes like Inventory / Invoicing / Taxation / Orders / Payroll and much more.
Being a horizontal product, BUSY can be used in almost all types of Business Segments and Industry Verticals like Retail, Manufacturing, Trading, Distribution, and Services.
BUSY is sold and supported through its network of over 500 Channel Partners, thousands of Resellers and Solution Partners all across India and abroad.
6 Key implementation facts about Busy accounting software
Below are 6 key facts you should know when implementing Busy accounting software solution for your business.
1. Financial Accounting
Starting from Vouchers to Ledgers to Trial Balance & Balance Sheet, everything is available at the click of a button. Add another layer of controls with the help of Sub Ledgers & Cost
2. Inventory Management
Manage your inventory with additional details like Batch No. (with expiry), Serial
Nos., Parameters (Colour, Size, Style etc.). Maintain multiple go-­downs & locations smoothly.
3. Configurable Invoicing
Create Goods and Services Tax (GST) compliant professional invoices as per business requirements easily. Maintain Party / Item­wise & Date­wise Item Prices.
4. Operations Management
Manage all your business operations like Quotation / Order/ Invoicing / Receivable /Payable along with Payroll & Customer Support swiftly.
5. Mobile App
Stay connected with your business data anywhere / anytime directly on your
Mobile Phone. Timely access to data can help you in making informed business decisions.
6. Simplified Usage
The software is simple and easy to use (doesn't require accounting knowledge). Highly flexible to accommodate diverse business needs and scalable as per your growing business needs.
What are the versions or editions of Busy accounting software?
To feed the diverse business needs of the Small and Medium Businesses, BUSY Accounting Software is offered in four different editions namely, Express, Basic, Standard and Enterprise, for businesses of different size and style.
1. Express
Express edition is 100% free accounting software with limited but sufficient functionalities for those who are in the nascent stage of their business and have a minimal operational requirement.
2. Basic
Basic comes with minimal set of features covering Invoicing, Accounting, Basic Inventory and Statutory Reports. It is meant for shopkeepers and small businesses whose main requirement is invoicing, book keeping and compliance.
3. Standard
Standard edition comes with a host of advanced features and is meant for medium level businesses. It has all the features of Basic edition plus a lot of other business management features like Order / Quotation / Challan Management, Multiple Units of Items, Item Barcode / POS Billing, Direct SMS / Email facility and much more. These features are purely business management features and are meant to enhance business productivity.
4. Enterprise Edition
Enterprise is meant for companies which are larger in size and normally have multiple branches/locations or a lot of users using BUSY. It has all the features of Standard edition plus a lot other enterprise features like Multi-Branch / Location Management, Enquiry / Support Management, Voucher Approval System, Payroll Management, exhaustive checks and controls and much more required in a distributed environment for collaborative working.
Skytrend Consulting is an accounting software solutions company. When it comes to implementing suitable and cost effective accounting software solutions for your business, we are the EXPERT! Need an accounting software for your business? Hotline: Call or Whatsapp 0803 3857245 or 0803 239 3958
If you also have an article or review on financial implementation or an accounting solution you want us to publish, send to blog@skytrendconsulting.com.
READ ALSO! Accounting software implementation: 5 key stages in a new accounting system
READ ALSO! Skytrend Consulting: Financial services and accounting solutions company
READ ALSO! SAGE 50 ACCOUNTING SOFTWARE: 8 KEY BENEFITS FOR YOUR BUSINESS
READ ALSO! SAGE 50 PEACHTREE ACCOUNTING SOFTWARE – ALL YOU NEED TO KNOW
READ ALSO! BBNaija Dorathy Launches Lingerie Line, Says Priority Is Making Busty Women Look Good
READ ALSO! How To Empower Yourself And Generate Income From Mutual Funds
READ ALSO! Why The North Remains Headquarters Of Poverty In Nigeria — Kingsley Moghalu