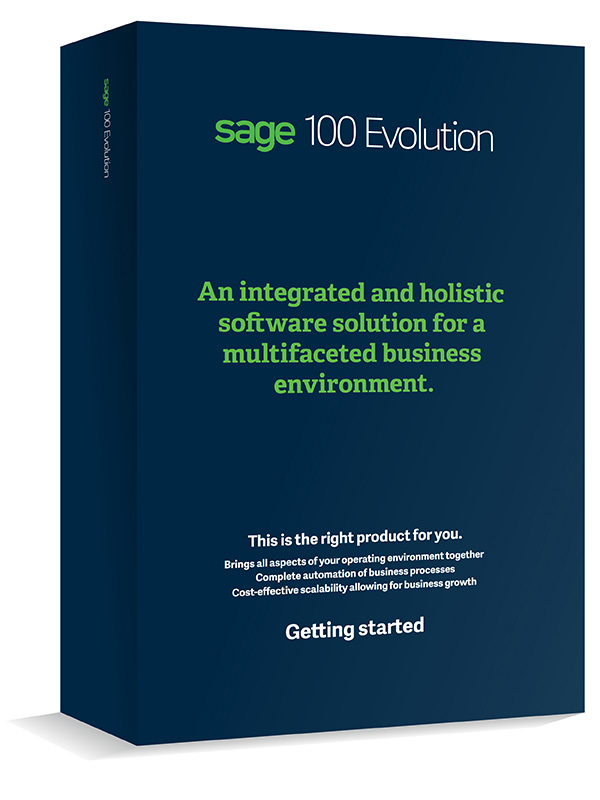 Sage 100 Evolution ERP accounting software: All you need to know
Sage 100 Evolution is a cost-effective Enterprise Resource Planning (ERP) software with a complete accounting and business management solution made specifically for small and medium sized businesses with an advanced operating environment, moving on the path of growth.
The software, like many other popular ERP solutions includes very rich features and fully integrated modules, divided into several segments for different business areas. It allows businesses to maximize operational efficiencies, enhance business intelligence and drive productivity.
Sage 100 Evolution manages all operational aspects of your business. It enables you to control your financials as well as relationships with your customers, suppliers, and employees. Developed within the Sage 100 Evolution Framework, all components and modules are fully integrated. And they share a common interface, providing you with a consistent user experience.
Data integrity is assured with Microsoft® SQL Server, and all your data is secured in a central database. As a core management system, Sage 100 Evolution is feature-rich, and its add-on modules make it a truly revolutionary Business Management Solution.
WHAT ARE THE 8 KEY FEATURES OF SAGE 100 EVOLUTION ERP?
Boost operational efficiency with an easy to use integrated solution
As companies continue to grow and evolve, so do their complexities. Sage 100 Evolution empowers companies to meet changing business needs with a comprehensive business management platform, designed to give you the most complete and accurate view of your business both from a financial and operational perspective.
The software provides the tools and capabilities to enhance business intelligence and meet complex financial requirements at any level.
Get accurate and real-time financial and accounting information at anytime
Sage 100 Evolution enhances your finance processes and business performance by the following capabilities:
*Date driven system that allows you to post transactions to any period at any time
*Ability to control who can open and close accounting periods
*Create and store unlimited financial accounting periods
*Print cheques of any bank in your own customized format
*Maintain multiple sets of companies with their own chart of accounts
Gain meaningful business insights with simplified reporting and dashboards
This is made possible by the following:
*Top Selling Items highlight your best performers, giving quantities sold and sales values
*Dashboard Sales History graph gives you detailed information by clicking on a bar in the chart.
*Add or remove dashboard widgets to display only the details most relevant to your business
*Key performance indicators to check sales performance and outstanding payments
Secure your data with advanced user permissions
*Add, remove or edit a specific user's ability to perform certain functions
*Avoid unauthorized access to your data by setting permissions for each user, limiting what can be viewed and changed
Manage projects efficiently and profitably
*Link reporting groups to various cost codes
*Enhanced budget creation per project
*Income statements per project
*Allocate expenses and income per transaction per project
Control costs and simplify your purchase order process
*Reserve stock quantities for future delivery and forecast orders
*Create purchase orders automatically using the reorder fields on the inventory records
*Create quotes and convert into sales orders once confirmed
*Merge multiple orders into a single invoice
*Print picking slips and delivery notes
*Allocate sales representatives to each document or even to individual document lines
*Create financial lines and post non-stock amounts directly to the GL accounts
Make faster, better decisions with powerful business intelligence and reporting
*Get a snapshot view of your data with graphs, charts and slicers that make it easy to see what's going on in your business
*Retain report formats for future use
*Flexible drill-down capabilities to get detailed analysis of transactions
*Generate reports instantly without the need to pull data manually from different sources
*Easily use Microsoft Excel Pivot Tables for further insights
Effectively manage inventory and operations across multiple locations
*Get complete control and visibility of your inventory
*Create inventory groups to sort and filter inventory items
*Maintain multiple units of measure and specify a buying and selling unit for each inventory item using Unit of Measure
*Factor costs like duty, brokerage, freight and insurance into your inventory cost and cost of sales using Import Cost Allocations
*Control pricing by only allowing a minimum gross profit value per inventory item
*Update your stock levels upon delivery of goods without even receiving the actual supplier invoice
*Serialized individual inventory items and keep track of them by their history using Serial Number Tracking
*Maintain multiple selling prices per inventory item or inventory group and per customer/supplier or customer/supplier group using Pricing Matrix.
7 MAJOR BENEFITS OF USING SAGE 100 EVOLUTION ERP
Cost-effective solution built on the latest technology
Sage 100 Evolution ERP helps organizations take control of all business operations without the need of a full-scale ERP solution. It doesn't require lengthy deploy times, intricate configuration and a consultant always on site, making it a cost-effective solution for managing your business.
Simple, easy to use features
Sage 100 Evolution ERP boasts of a modernized interfaced, process flows, quick links to reports, a recently used section, the ability to copy and paste directly to and from Excel, and many more features designed to enhance your business processes making for a more efficient and productive working environment.
Take control of all business operations
With Sage 100 Evolution, you can control every aspect of your business, from inventory and finances to supplier engagements and customer relationships, allowing you to make informed decisions at every step, based on the data at hand.
Get a holistic picture of your business
The Sage 100 Evolution dashboard display is an intuitive and simple way of identifying and monitoring key factors of the organisation, ensuring that they perform at a level that ensures achievement of business objectives.
Additional functionality through add-ons
Sage 100 Evolution comes with a range of standard add-on modules like Sage Intelligence Reporting which makes customizing and distributing reports simple and easy, as well as CRM and Point of Sale, making it a robust and scalable business management solution that can be tailored according to your business needs.
Full integration means one reliable management experience
Sage 100 Evolution is powered by Microsoft SQL Express that results in a consistent user interface.
Unique transformational capabilities
Sage 100 Evolution allows for unique multi-currency transaction, multi warehousing and unlimited financial accounting periods.
It has a powerful performance and business management dashboard that help you make faster, better decisions. Also comes with a Central Data Search. It has a flexible Reports in Graph and chart, and can be Integrated with Microsoft Outlook.
TASK MODULES
The following task modules are available in Sage 100 Evolution ERP
General Ledger
Evolution CRM Standard
Point of Sale
Sage Online Tools
Multi Warehousing
Accounts Receivable
Account Payable
Cashbook
Import Cash Allocation
Inventory Control
Invoicing
Project Tracking
Report Writer & Stationery Customisation
Sales and Purchase Order Entry
System Audit Manager
Delivery Manager
Bank Manager
Mobility (limited to 5 users)
ADD-ON MODULES
Sage 100 Evolution ERP comes with a range of standard add-on modules like Sage Intelligence Reporting and many others which makes customizing and distributing reports simple and easy. Some of these include the following:
*Sage 100 Mobile: Allows you to access Sage on your mobiles and tablets
*Sage 100 Bill of Materials: Allows you to create assembly sheets for manufacturing & assembling.
*Sage 100 Job costing: Invoice job to customers with inventory, time, other expenses and link to a project.
*Sage 100 Fixed Assets: Manage unlimited number of fixed assets, depreciation, capex budgets and orders etc.
BASE MODULES OF SAGE 100 EVOLUTION ERP
The System Manager
The System Manager is the control center for the entire Sage 100 Evolution application. It is the system's user interface. Featuring a System Tree for navigation, it also controls the system environment and set up, online help and multilevel password security. Sage 100 Evolution delivers enhanced efficiency, productivity and security to any business.

The General Ledger
The General Ledger is the heart of the financial function of your company. All processing you do eventually reflects in the General ledger. The system has no tedious month or year-ends. The system is date –driven, allowing you to post transactions to any period at any time. Note, however, that you can block periods that are complete, thereby preventing operators from accessing them in error. The system stores five years of financial information.

Report Writer
The Report Writer module allows you to customize standard reports per user as well as stationery layouts per user. It integrates into every module in the Sage 100 range. You can change layouts, add and remove fields and perform additional calculations or subtotals. You can even write your own SQL script for advanced reporting. The system includes a tutorial program that will guide you through the process of report writing.

Project Tracking
This module allows you to allocate income or expense transactions to particular projects. You can then filter reports on a project basis and create an income statement per project. Create master and sub projects and allocate budgets against each project to manage profitability.

Receivables and Payables
Sage 100 gives you instant access to customer and supplier balances, overdue totals and sales/purchases history. Drill down features and reports are available when you need a more detailed analysis of customer/ supplier transactions.

Sales & Purchase Order Entry
You can maintain and control outstanding orders, processed orders and back orders. This module integrates fully into Sage 50's Inventory, Receivables and Payables modules.
If you are finding it difficult to get an integrated and holistic view of your business, may be it is time to make the move to Sage 100 Evolution ERP. This revolutionalised software brings all the aspects of your operating environment together, Sage 100 Evolution is an end-to-end Business Management Solution that gives you the ability to control your financial situation as well as your relationships with your customers, suppliers and employees.
Skytrend Consulting is an accounting software solutions company. When it comes to implementing suitable and cost effective accounting software solutions for your business, we are the EXPERT! Need an accounting software for your business? Hotline: Call or Whatsapp 0803 385 7245 or 0803 239 3958. If you also have an article or review on financial implementation or an accounting solution you want us to publish, send to blog@skytrendconsulting.com.