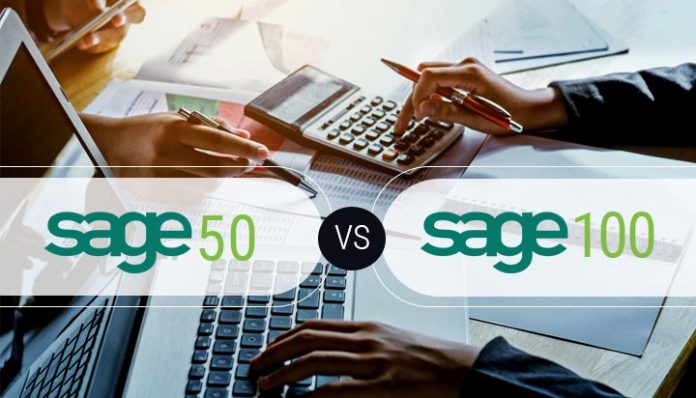 Sage 50 accounting Vs Sage 100 Evolution ERP — What you must know
An accounting software is a computer program that allows automation of financial records and processes and assists accountants, store managers and business owners in maintaining, posting and reporting an organization's financial transactions within a functional system.
A good accounting software solution should contain modules such as customers, vendors/suppliers, sales ledger, purchases ledger, accounts receivable, accounts payable, journal, payroll, fixed asset direct cost (cost of sales) and indirect cost (administrative expenses), assets, liability, trial balance, general ledger, trial balance, income statement, inventory management, balance sheet, etc. Basically it functions as a complete accounting information system.
Sage 100 Evolution is a cost-effective Enterprise Resource Planning (ERP) software with a complete accounting and business management solution for small and medium sized businesses with an advanced operating environment.
The software, like many other popular ERP solutions includes very rich features and fully integrated modules, divided into several segments for different business areas. It allows businesses to maximize operational efficiencies, enhance business intelligence and drive productivity.
Sage 50 and Sage 100 are popular choices with businesses everywhere. However, they differ quite a bit regarding the features and functionalities they can bring to your workplace and what you can achieve through their use in your business.
If you have just started your business, it is likely that you would find Sage 50 a capable accounting solution that meets all your needs and provides you with a way forward.
However, if you are at a stage of expansion or going into the mid-market phase, you might find some of the inherent limitations of Sage 50 a little counter-intuitive. In such cases, Sage 100 ERP can definitely be a meaningful upgrade for you.
Let us take at how these solutions differ and what this can mean for your business.
Fundamental Difference Between Sage 50 and Sage 100 ERP
Sage 50 is offered as a plug-and-play accounting solution for small businesses and startups. The solution incorporates several important accounting features and functionalities while also providing different kinds of reports you can use to bolster your business decisions. It also includes basic inventory management capabilities.
This makes Sage 50 a particularly good solution if you operate out of a single office location and would not be affected by desktop-based functionality.
On the other hand, Sage 100 is a fully-features ERP or Enterprise Resource Planning solution for businesses on the path of growth. The solution, like many other popular ERP solutions, is divided into several modules for different business areas.
Accounting and inventory management, also found in Sage 50, are just two of these modules.
Apart from these, you also have modules for project management, HR management, purchasing and supply management, sales, customer management, manufacturing, business intelligence, and reporting to name a few.
Now that the fundamental difference between these solutions has been established, let us take a deeper dive.
Features and Functionality
The main area where Sage 50 and Sage 100 differ greatly is in terms of features and functionality. Sage 50 is an accounting solution that is meant for small businesses, preferably to be used by one organization that has relatively simple accounting needs and operates out of one office location.
Support for integrations and multiple users is limited and you would need to use other tools if you want to incorporate additional business areas and roles. In fact, using Sage 50 to deal with multi-user, multi-access business environments can be quite difficult.
Sage 100, on account of being a fully-featured ERP solution, contains many added features and functionality that can allow you to apply it to multiple business verticals like retail, distribution, and manufacturing.
Several internal and external processes, like purchasing management and payroll management, can be capably handled by the solution while it retains all the accounting capabilities of Sage 50 and extends it greatly with superior reporting.
Scalability
While offering some scaling, Sage 50 can become severely limited for expanding businesses quickly. The native performance and a visible end-to-end value chain inherent to Sage 50 cannot measure up to full ERP suites like Sage 100.
Sage 50 is meant to work with a limited number of users and the pricing of the product is also calculated for a certain number of users. If you need visibility and access for an increasing number of users, Sage 50 is likely to hit a wall sooner rather than later.
After a certain level of growth and expansion, your business can outgrow the scalability and functionality offered by Sage 50.
Sage 100, being an ERP solution, brings native support to be visible, accessible, and operable by multiple users simultaneously right out of the box. The flexibility on offer can enable you to apply Sage 100 to your current state of business and keep modifying and evolving it as your business scales up.
Customization and Integrations
Any software solution that you apply to an important business process needs to be capable of a degree of customization. In this regard, Sage 50 is quite basic. The core functionality can be extended in a few ways with dedicated Sage add-ons and there are limited integration options.
However, these are not designed to completely transform your Sage 50 installation to an enterprise-level solution.
Sage 100 natively supports a variety of business verticals with its many modules. This means that areas like inventory management, business intelligence management and payroll management can be natively handled by the solution without the need for third-party integrations.
Moreover, you can use a whole array of existing integrations and even pay for custom-built integrations created using the Sage source code. This means that Sage 100 can be deployed as a real enterprise solution for any kind and size of business.
In Conclusion
While Sage 50 and Sage 100 differ in many areas, either can be useful for your business depending on the stage of development your business is currently in and the expectations you have from the software solution.
For a smaller company or a startup that is just looking for an intuitive accounting solution, Sage 50 can be a very capable purchase that justifies its cost ably. However, if you are looking for faster, smoother, feature-rich operation that allows you to customize the software according to your needs, Sage 100 ERP is definitely the way to go.
If you are looking to expand your business and work with bigger customers and partners, it can be said that an upgrade to Sage 100 ERP can definitely be an overall positive for your business, allowing you to create a more inclusive, robust, and efficient workflow.
Extracted from medium.com
Skytrend Consulting is an accounting software solutions company. When it comes to implementing suitable and cost effective accounting software solutions for your business, we are the EXPERT! Need an accounting software for your business? Hotline: Call or Whatsapp 0803 385 7245 or 0803 239 3958. If you also have an article or review on financial implementation or an accounting solution you want us to publish, send to blog@skytrendconsulting.com.