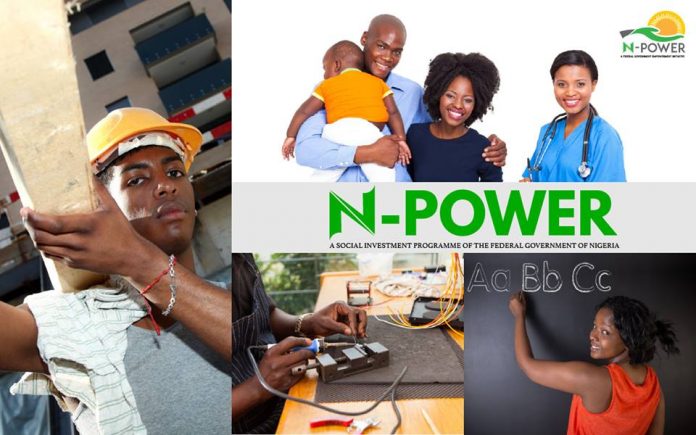 N-Power: How to benefit from FG Empowerment Program
Nigeria has been grappling with the menace of unemployment for ages. Protracted joblessness is pushing many a youths to depression and crimes making some to resort to armed robbery, kidnapping and ritualism.
According to the National Bureau of Statistics, Nigeria's unemployment figures jumped by 30% in 2018 to over 20 million people by the end of the year. It says less than 40% of the nation's nearly 200 million people are fully employed. Nigeria overtook India last year as having the largest number of people living in extreme poverty — 87 million — according to the Washington-based Brookings Institution. It moved out of its worst recession in almost 30 years in September 2017 and made bouts of economic growth.
However unemployment and poverty have yet to see a positive impact. Youth unemployment has been increasing because most graduates lack relevant marketable skills. The Federal government recently acknowledged that about 80% of Nigeria's youth are unemployed while 10% are underemployed.
It's on the basis of this that the Muhammadu Buhari led Federal Government introduced the N-Power programme on the 8th of June 2016, one year after it came into power. The program is an initiative designed to train, grant certification and provide jobs for young unemployed Nigerians for a two year period. The government says it aims to engage and train qualified young unemployed Nigerians who meet the required criteria, in order to build a new crop of skilled and highly competent workforce of technicians, artisans and service professionals.
The program is arguably the most popular social intervention and investment initiative of the President Muhammadu Buhari's Government. Nigerians between the ages of 18-35 among other criteria are eligible to apply. The N-Power programme helps beneficiaries in acquiring relevant skills to become primary players in the domestic market and solution providers within their communities. Every month, the federal government spends about N15 billion as stipends on 500,000 volunteers of the N-Power scheme. The government avers that despite the current high level of unemployment, harnessing Nigeria's young demography through appropriate skill development efforts provides an opportunity to achieve inclusion and productivity within the country.
In the first year of the N-Power scheme, it recorded 200,000 beneficiaries and now has 300,000 young Nigerians in paid work. No doubt it has transformed many youthful lives by better positioning them in the labour market. Large-scale skill development is the main policy thrust of the programme.
According to Stears Business blog, "N-Power strives to improve the quality of labour supply by training youths, but cannot affect the demand for labour in the economy. So, perversely, creating better-skilled workers without a corresponding increase in modest employment and thereby leaving the economy with highly skilled but unemployed youth."
N-Power which has categories for graduates and non graduates applicants, is also linked to the Federal Government's policies in the economic, employment and social development arena. Each participant stays on the scheme for two years before they are retired. The logic is to make way for a new crop to benefit from the scheme as opposed to keeping the same set of individuals within the system. Ideally, more people are reached, and those retired from the system are better equipped to gain meaningful (self) employment.
N-Power Graduates Category
The N-Power Graduate category also known as N-Power Volunteer Corps is a post-tertiary engagement initiative and it's paid volunteering programme for 2-year duration. The graduates will undertake their primary tasks in identified public services within their proximate communities. All N-Power Volunteers are entitled to computing devices that will contain information necessary for their specific engagement, as well as information for their continuous training and development. N-Power volunteers provide teaching, instructional and advisory solutions in 4 key areas which include;
1. N-Power Agro. These volunteers provide advisory services to farmers across the country. They will disseminate the knowledge that has been aggregated by the Federal Ministry of Agriculture and Rural Development in the area of extension services.
2. N-Power Health: Volunteers under this scheme help improve and promote preventive healthcare in their communities to vulnerable members of the society including pregnant women and children and to families and individuals.
3. N-Power Teach: Volunteers here help improve basic education delivery in Nigeria. They are deployed as teaching assistants in primary schools around Nigeria.
4. N-Power Tax: These volunteers are selected to work as Community Tax Liaison Officers in their states of residence with the state's tax authorities. The N-Power community tax liaison officers will have responsibilities which will include answering online inquiries, customer management, creating awareness of tax compliance.
N-Power Non-Graduate Category
The N-Power Non-Graduate category is designed to train and empower non-graduates with skills that they can use for the betterment of themselves and the economy at large. The programme offers training and certification programme for all successful candidates.
The N-Power Non-Graduate category provides training and certifications in 2 key areas which include;
N-Power Knowledge: The N-Power Knowledge programme is the Federal Government's first step towards diversifying to a knowledge economy. This programme work alongside the planned eight innovation hubs across the country to provide incubation and acceleration of the technology and creative industries. The programme is a 'Training to Jobs' initiative, essentially ensuring that participants can get engaged in the marketplace in an outsourcing capacity, as freelancers, as employees, and as entrepreneurs.
N-Power Build: This is an accelerated training and certification (Skills to Job) programme that will engage and train 75,000 young unemployed Nigerians in order to build a new crop of a skilled and highly competent workforce of technicians, artisans and service professionals.
How To Apply For N-Power
To apply for the N-Power program, you will need to meet the minimum requirements (if any) for your respective programme. Generally, the selection is based on expression of a genuine interest in whichever area the applicant decides, passing the relevant tests, willingness to push oneself beyond one's comfort zone; and the ability to show a flair to develop skills needed to make the applicant achieve his potentials.
For registration, applicants need to provide BVN No, CV, NYSC certificate and number, Passport photographs, ND and NCE degree certificate and the e-mail address on the N-Power porter.
The current n-power application form is only for undergraduates position. If you have your SSCE result, then pick it up now and apply for npower via www.portal.npower.gov.ng online.
After the online registration, you'll be shortlisted for screening, interview, if you are successfully shortlisted, you'll undergo n-power posting and n-power deployment.
it's believed that over 500,000 qualified Nigerians are presently enrolled in the programme, with a steady flow of stipends without any interference. Many have built entrepreneurship, acquired skills, such that even after the expiration of their tenure in the scheme, they hopefully should be able to sustain a continuous inflow of income.
In an article published in Daily Trust in January 6, it ask, "Does the (N-Power) scheme solve the unemployment cum poverty problem (of Nigeria)? The answer is a definite no. However, it has cushioned the effect of the two and it's important this fact is highlighted.
Call 0803 239 3958 for free financial consulting advice for your businesses.
Send your accounting articles to blog@skytrendconsulting.com.
READ ALSO!
VAT threshold of N25m: All you need to know
Businesses With Less Than N25m Turnover Are Now VAT Exempt
PAYE: How to calculate personal income tax
Skytrend Consulting: Financial services and accounting solutions company
VAT on online purchases: 8 Critical things you must know
Nigerian Central Bank Approves Disbursement Of Loans For Creative Industries At 9%
How To Empower Yourself And Generate Income From Mutual Funds
Is N-Power Truly Empowering Nigerian Youths?
TraderMoni: Poverty Alleviation Or Political Leverage?