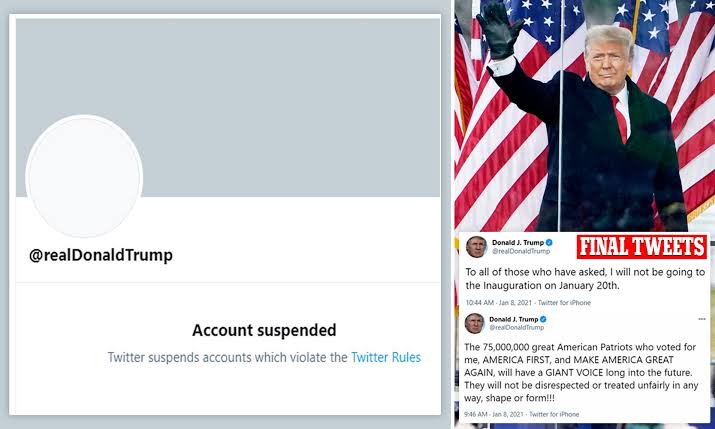 Trump twitter ban: Social media, public safety and free speech
Twitter on Friday permanently banned Donald Trump, US President from its service "due to the risk of further incitement of violence," highlighting the tight rope technology companies walk in balancing public safety with the right of free speech.
Constitutional democracies guarantee free speech but this right is qualified. Inciting violence or insurrection or printing defamatory materials against a person or an institution attracts grave consequences.
This understanding informed rules drafted by social media companies for users of their platforms. They proscribe posts inciting violence or ones promoting the sexual abuse of minors. Considering their out-sized influence, the potential for harm is ineluctable. With over 2.7 billion users, Facebook has more users than twice the Africa population.
But Trump presented these social media companies with a different set of challenges. His predecessor treated the platform as a secondary means of pushing out his message, relying more on press secretaries, it was Trump's preferred choice, unfettered by the niceties of good grammar or even propriety.
Soon, his preferred platform Twitter became the source of 'Breaking News' and where to get the president's reaction on any given issue. His press secretaries increasingly saw their roles as walking back the president's most bizarre claims or threading a semblance of reality into his falsehood.
So how do you enforce your rules against the leader of the world's most powerful country? Most importantly, how do you shut him out when his most provocative remarks evoke raw passion helping to drive home revenue?
Twitter advertising revenue in 2020 from the United States alone was $1.2billion according to Statista, a leading global provider of market and consumer data.
Against flagrant abuse of their rules, the social media companies demurred. Twitter, Facebook, and other platforms said they were defenders of free speech and that posts of world leaders like Trump should be allowed because they were newsworthy.
However, the storming of the US Capitol on Wednesday, generally seen as the temple of US democracy woke them up from inertia. Facebook banned Trump's account for the remainder of his presidency, while Twitter placed a 12-hour ban and demanded he deleted controversial tweets.
On Thursday, his account on Twitter was restored but the US president resumed tweeting posts capable of inciting violence in a sign that he was never going to show contrition – he doesn't even seem capable.
Twitter said in a blog post that Trump's personal @realDonaldTrump account, with over 88 million followers, would be shut down immediately. The company said two tweets that Trump had posted on Friday — one calling his supporters "patriots" and another saying he would not go to the presidential inauguration on Jan. 20 — violated its rules against glorifying violence.
According to Twitter, these posts were "highly likely to encourage and inspire people to replicate the criminal acts that took place at the U.S. Capitol on Jan. 6, 2021," when mobs, encouraged by Trump, invaded the Capitol, destroying property and eventually leading to the death of five people.
Thought police?
Following this announcement, some fear that the era when big tech companies like Facebook, Twitter, Snapchat, and Google merely provided a platform for users to express their thought independently without fear of consequences, maybe over.
Mark Zuckerberg, had stated in a Facebook that Trump was being indefinitely suspended for using Facebook to incite a violent riot in Washington, D.C., a day before. The Facebook CEO described the events as "shocking" and a "violent insurrection against a democratically elected government.
Apart from Facebook and Twitter other platforms that have taken action against President Trump include Tiktok which flagged content violations and redirected hashtags like #stormthecapitol and #patriotparty to its community guidelines.
"Hateful behaviour and violence have no place on TikTok. Content or accounts that seek to incite, glorify, or promote violence violate our Community Guidelines and will be removed," a spokesperson for TikTok said.
Snapchat also disabled Trump's account on Wednesday because it believes the account promotes and spreads hate and incites violence.
Google-owned YouTube said it is accelerating enforcement of election misinformation and voter fraud claims against Trump and other channels. Channels that receive three strikes in the same 90-day period will be permanently removed from YouTube.
Apple also threatened on Friday to remove right-wing friendly social media app Parler from its App Store if Parler does not lay out a plan to moderate its content.
While the US President Donald Trump may be at odds with the rest of a decent free speech society, but relying on big tech to police speech online raises many questions for many people.
Edward Israel-Ayide, a digital marketing expert agrees with the big techs' decision to flag Trump's accounts based on how he used his platform to incite his supporters to attack the US Capitol building which led to death and injuries.
"The risk anyone can see is that he is likely to continue using the platform to incite his followers, given the fact that Molotov cocktails and pipe bombs were discovered during the UC Capitol invasion, who knows what that increment may lead to," Israel-Ayide said.
He also says Twitter has a moral prerogative to deny anyone the use of their platform to spread ideas which it considers dangerous to society.
"Even we report accounts that promote pedophilia, rape, and racism, are we then censoring those tweeting those ideas?" he asked.
But Emily Ratajkowski, an American actress and model disagree. For her, the move could potentially make Twitter, Facebook the most powerful entities since they have the power to censor anyone.
"This gives Facebook, tech, Zuck the most power. If he can shut the president up and off, he can shut any of us up and off," she wrote on her Twitter timeline.
Republican party officials have condemned the ban calling for a revocation of legal protections for social media companies. Section 230 of the United States Communications Decency Act shields the companies from liability for what their users post online.
"It is now time for Congress to repeal Section 230 and put Big Tech on the same legal footing as every other company in America," Senator Lindsey Graham of South Carolina said on Friday according to reports by the New York Times.
What follows
The excision of an American president from his preferred social media platform by a US company will draw more than just scrutiny. It will usher in an era of pressure on the company to apply the same standards on anyone violating its policies, something it often fails to do.
A New York Times review of Trump's139 Twitter posts from Sunday, May 24, to Saturday, May 30, 2020, found at least 26 contained clearly false claims, including five about mail-in voting that was not flagged, five promoting the false conspiracy theory about Mr. Scarborough and three about Twitter itself. Another 24 were misleading, lacked context, or traded in innuendo.
There are also fears that the role of thought police would further plunge Twitter into gray areas. For example, some will ask how the Hong Kong protesters who tried to breach the country's parliament were any better than those who overran the US Capitol. Why should protesters seek to dethrone an African country's unpopular government outside an election get to use the platform for mobilisation?
Already in some countries, speech online comes with grave consequences. Jack Ma, a Chinese billionaire entrepreneur felt the ire of the government after several critical comments against regulators were published online. Governments may take a cue from Twitter and ban some social media platforms altogether. Nigeria is considering a law to regulate social media activities.
Regardless of one's view on the matter, social media platforms have become an integral part of our lives. This is because they easily adapt to different functions- politics, business, media, and entertainment. And there is only so much Twitter can do to police tweets considering that the platform has over 340million users posting some 500million tweets daily.
Call 0803 239 3958 for free financial consulting advice for your businesses. Attend our bi-monthly Peachtree Sage 50 accounting and reporting seminar.
Reach us or send your financial updates and articles to info@skytrendconsulting.com.
READ ALSO! Naira free fall: Parallel market not determined by demand, supply forces — CBN Governor
READ ALSO! Skytrend Consulting: Financial services and accounting solutions company
READ ALSO! Why The North Remains Headquarters Of Poverty In Nigeria — Kingsley Moghalu
READ ALSO! For failing to give out 'adequate loans', 12 banks fined N499bn
READ ALSO! Naira plunge: Speculators will suffer huge loss, Operators warn
READ ALSO! How To Empower Yourself And Generate Income From Mutual Funds