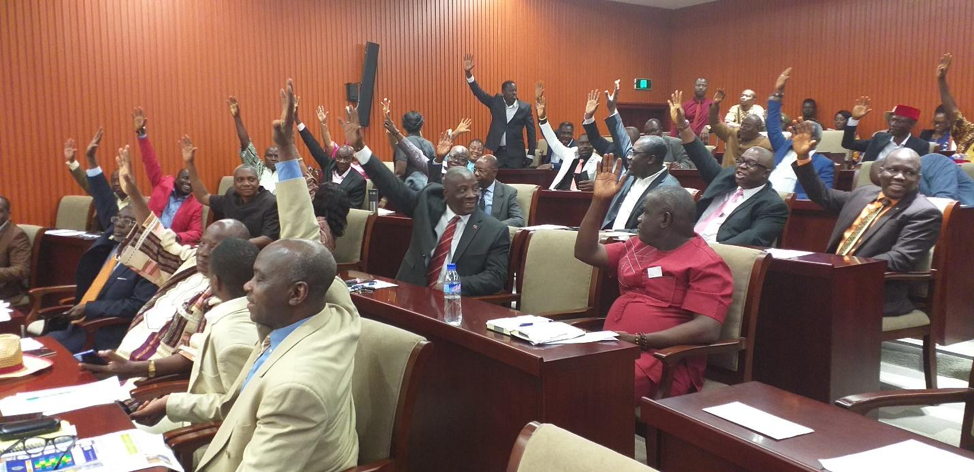 Reps, Senators in Liberia Agree to over 30% pay cut
Members of the house of representatives and senate of Liberia have accepted a pay cut of 31% and 36% respectively in order to fund their budget 2019/2020.
The lawmakers voted to a slash in their monthly earnings by 31 percent and that of the senate by 36 percent.
The lower legislative chamber voted in favour of the cut when it recently passed the country's draft national budget of $526 million for the 2019/2020 fiscal year.
FrontPageAfrica, a Liberian magazine, reports that the house said it slashed the lawmakers' salaries and benefits to accommodate the pay of government workers, including about 1,200 health workers.
It said the cut was also to realise its projections, avoid the recurrence of budget shortfall as well as meet the International Monetary Fund (IMF) standards.
The report of the joint committee on ways, means, finance, and public accounts and expenditure also indicate the house removed the $7 million contingent revenue as was initially provided for in the budget.
The report reads:
"By this, the Committees with the mandate of Plenary instituted a national action that led to the proposed reduction of all employees' salaries by six percent in the Executive excluding teachers, medical and security personnel, and those earning US$500 and below, while members of the National Legislature will have a reduction of 31 percent or US$2,586 (for House of Reps.) and 36 percent or US3,600 (for the Senate) net of monthly income tax for salaries and allowances, and other reductions to include 50 percent cut in gasoline distribution, so as to address compensation gap."
Call 0803 239 3958 for free financial consulting advice for your businesses.
Send your accounting articles to blog@skytrendconsulting.com.
READ ALSO!
VAT threshold of N25m: All you need to know</
Businesses With Less Than N25m Turnover Are Now VAT Exempt
PAYE: How to calculate personal income tax
Skytrend Consulting: Financial services and accounting solutions company
VAT on online purchases: 8 Critical things you must know
Nigerian Central Bank Approves Disbursement Of Loans For Creative Industries At 9%
How To Empower Yourself And Generate Income From Mutual Funds
Is N-Power Truly Empowering Nigerian Youths?
TraderMoni: Poverty Alleviation Or Political Leverage?