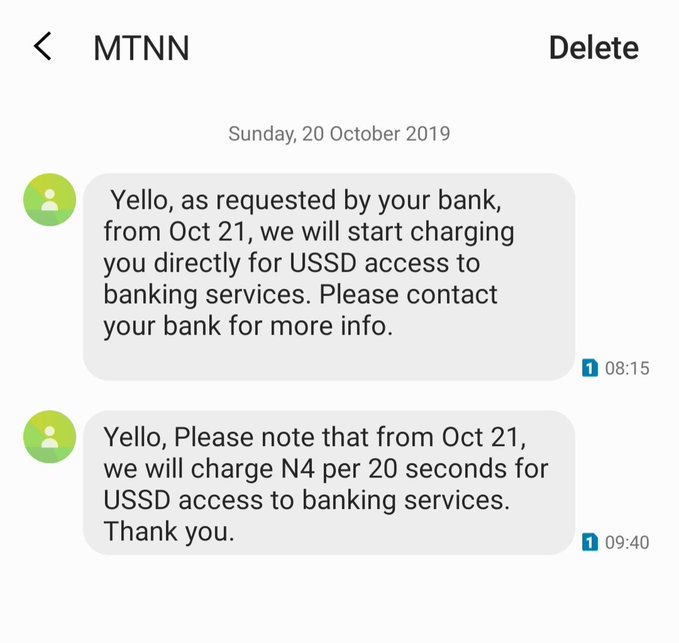 USSD banking: Nigerians to be surcharged N4 for every 20 seconds from Oct 21
As from October 21st 2019, Nigerian customers and consumers will start paying a surcharge of N4 for every 20 seconds of USSD banking transaction with their phones.
Customers who use unstructured supplementary service data (USSD) channels to access banking services would have to pay new charges from October 21.
Some telecommunications network service providers have sent notices to their customers of the new charge.
"Please note that from Oct 21, we will charge N4 per 20 seconds for USSD access to banking services. Thank you," a notification sent by MTN to customers read.
Banking services were introduced on USSD channels to ensure easier access to banking services.
Before now, telcos charged customers per USSD session.
This charge differed across networks with the highest being N20 per session.
However, this new charge would mean that customers will be charged N12 for every minute spent on the USSD channel.
Already, the development has elicited reactions from customers and they have taken to social media to express how they feel on social media.
Some customers went as far as sending messages to their banks for further information on the charges.
Some banks have responded saying their charges remain unchanged.
"Our fees and charges on the USSD service remain unchanged and all our services are available," Access Bank's Twitter account replied a customer.
Call 0803 239 3958 for free financial consulting advice for your businesses.
Send your accounting articles to blog@skytrendconsulting.com.
READ ALSO!
Scammers hack UBA server, cart away N752m
Businesses With Less Than N25m Turnover Are Now VAT Exempt
Scammers hack UBA server, cart away N752m
How to get quick loans from Gtbank, Zenith, UBA, Access Bank without collateral
Access Bank non-collateralized emergency loan hits N1bn daily: How you can benefit…
VAT threshold of N25m: All you need to know
PAYE: How to calculate personal income tax
Skytrend Consulting: Financial services and accounting solutions company
VAT on online purchases: 8 Critical things you must know
READ ALSO! TraderMoni: Poverty Alleviation Or Political Leverage?