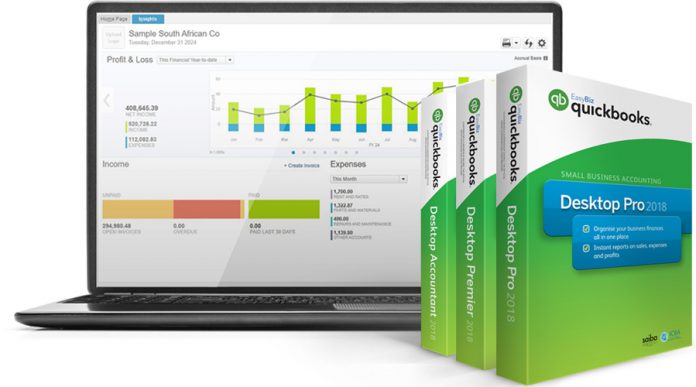 QuickBooks Accounting software solution: All you need to know
QuickBooks is an accounting software solution developed and marketed by Intuit for small and medium-scale businesses, which offers desktop accounting applications as well as cloud-based versions. Like any standard accounting software, it accepts business payments, customers' receivables, manages customers and vendors' ledgers, manages and pays bills, and perform human resources and payroll functions.
The software comes in different variants such as products you can use online, products for Macs as well as for Windows, products for small businesses such as Quickbooks Pro and QuickBooks enterprise that performs ERP functions for larger companies that want to mount QuickBooks on a server for multiple staff members to use.
Intuit was founded in 1983 by Scott Cook and Tom Proulx in Mountain View, California, USA. After the success of Quicken for individual financial management, the company developed similar services for small business owners.
The initial Quicken software did not function as a "double-entry" accounting package. The initial release of QuickBooks was the DOS version that was based on the Quicken codebase. The Windows and Mac versions shared a different codebase that was based on In-House Accountant, which Intuit had acquired.
The software was popular among small business owners who had no formal accounting training. As such, the software soon claimed up to 85 percent of the US small business accounting software market. It continued to command the vast majority of this market as of 2013.
Professional accountants, however, were not satisfied with early versions of the system, citing poor security controls, such as no audit trail, as well as non-conformity with traditional accounting standards.
Intuit sought to bridge the gap with these accounting professionals, eventually providing full audit trail capabilities, double-entry accounting functions and increased functions. By 2000, Intuit had developed Basic and Pro versions of the software and, in 2003, started offering industry-specific versions, with workflow processes and reports designed for each of these business types along with terminology associated with the trades.
Options now include versions for manufacturers, wholesalers, professional service firms, contractors, non-profit entities and retailers, in addition to one specifically designed for professional accounting firms who service multiple small business clients. In May 2002 Intuit launched QuickBooks Enterprise Solutions for medium-sized businesses.
Also there are QuickBooks Desktop Pro version, Premier Version, Accountant Version and Enterprise Version.
On September 22, 2014, Intuit announced the release of QuickBooks 2015 with improved income tracker, pinned notes, improved registration process and insights on homepage.
In September 2015, Intuit released QuickBooks 2016 with new features such as batch transaction, bill tracking, continuous feed label printer support, batch delete/void transactions etc.
In September 2016, Intuit released QuickBooks 2017 with automated reports, smart search and improved viewing of report filters among other things.
In 2017, Intuit released QuickBooks 2018 to give its users a better experience such as mobile inventory barcode scanning, multi-monitor support, search in the chart of accounts, mobile inventory scanning etc.
On September 17, 2018, Intuit announced the release of QuickBooks 2019 which includes history tracker for customer invoices, ability to transfer credits between other jobs of the same customer, payroll adjustment feature, and more.
On September 16, 2019, QuickBooks 2020 was unveiled with the aim to improve the reliability and experience of using the software. It comes with new features such as batch invoices to customers, automatic payment reminders, collapse and expand columns, easy QuickBooks version update etc.
Editions of QuickBooks Desktop accounting software
There are 4 basic desktop editions of QuickBooks accounting software solution
QuickBooks Pro
QuickBook Premier
QuickBook Accountant
QuickBook Enterprise
It's important to note that each edition of QuickBooks includes tools to keep track of your business finances, including invoicing, tracking vendors and customers and monitoring cash and bank balances. Different editions, though, address different needs.
1. QuickBooks Pro:
Designed for those whose business is "up and running," such as small businesses that are at the foetal stage.
For startup businesses that are just getting the ball rolling, this is the version QuickBooks suggests. When you set up the software, it provides tips to help you get started and will walk you through importing contacts from an email account or Excel file. Up to three employees can use the software at one time, you can export reports to Excel and it allows you to download bank transactions as well. In addition, instant reports help new users save time while learning the system.
The software provides a variety of features geared towards assisting users to manage all of their accounting tasks, such as accounts payable, accounts receivable, reconciliation, payroll as well as financial reporting. Costing at $299.99 in 2016, it offers a variety of advantages small business owners can obtain from making use of QuickBooks Pro.
QuickBooks Pro is a simple, deceptively robust, and powerful solution that solves everyday small-business accounting needs.
Many business accountants can lift QuickBooks Pro beyond its fundamental boundaries with plenty of workarounds, and even a mid-market company could use Pro for 80% of its daily needs.
But, even without a dedicated accountant operating it, a QuickBooks Pro account can offer the following capabilities:
Three simultaneous users in a data file
Receivables and revenue: invoices, credit memos, statements, sales receipts, receive payments, estimate to invoice
Payables and expenditures: purchase orders, item receipts, pay bills
Job costing
Inventory part tracking
Time and mileage tracking
Banking activities: deposits, checks, credit card charges, credits, bank charges, interest, paychecks, online banking, bank reconciliation
Collect and pay sales tax
Multiple currencies
Price levels as fixed percentages
Reports like budgets, operational reporting, and financial reporting
2. QuickBooks Premier:
This edition is marketed for those whose business is "established and expanding," offering features like customized sales reports not available in Pro.
This version is well-suited for the business that is not only established but is growing as well. It enables you to modify reports to your specific industry and type of business, such as contractor, retail or nonprofit. Track your inventory, produce profitability reports and find out what it will cost to complete your current project all in one location. You can also track change orders, create bills at custom intervals during a project and tailor how you monitor time and costs.
QuickBooks Premier is sold in six different editions: General Business, Contractor, Manufacturing and Wholesale, Nonprofit, Professional Services and Retail. While they all share features common to all QuickBooks editions, each edition of Premier adds special tools suited to a particular field. Contractor, for example, adds "job costs by vendor" and "cost to complete job" reports, while Professional Services includes the ability to, among other things, transfer unbilled time and expenses to customized invoices.
QuickBooks Premier offers the following features that Pro doesn't:
Five simultaneous users in a data file
Sales orders/backorder tracking, current availability tracking, sales order to PO to invoice
Unit of measure, build assembly, inventory center
Job costing: estimate to PO, change order tracking, view unbilled time and expense from one window, batch invoice time and expense
Reporting: balance sheet by class, previous reconciliation reports, forecasting, business planner, industry-specific reporting
Per item price levels
Billing rate levels
Reversing journal entries
Filter sales order and purchase order reports based on current availability
Closing date exception report
3. QuickBooks Accountant:
This is different from both of these, and is designed for tracking accounts for multiple businesses.
It offers several features that allow you to manage your business accounts. You can email journal entries to clients, copy data from Excel, manage two company files at once, and create and customize financial statements. In other words, while QuickBooks Premier helps you keep track of finances for your own business, QuickBooks Accountant gives you the tools you need to keep books for others.
4. QuickBooks Enterprise:
QuickBooks Enterprise software offers end-to-end accounting solutions without the need for ERP implementation. Designed for growing businesses and non-profit organizations, QuickBooks Enterprise provides a dedicated accounting platform to integrate tasks like payroll, payables, inventory tracking, and more into.
Despite being a stand-alone system, QuickBooks Enterprise offers advanced features and functionalities that can be tailored according to the type of industry your business caters to, notably manufacturing, wholesalers, and construction segments. Some of these more complex processes and features include advanced pricing, payroll, and inventory tracking. Also added are more data capacity, more sophisticated inventory management, and multiple entities support along with the same feature set consolidation and same navigational scheme and user interface found in other Intuit's products.
As the most complete version, QuickBooks Enterprise Solutions is geared toward the well-developed business that needs advanced inventory management, the ability to create complex reports and increased options for employees' permissions within the software. While it is certainly the most costly version of QuickBooks, it also provides features and tools not available in any other edition and can easily adapt to meet the needs of a growing and changing business. Below are essential features of QuickBooks Enterprise
QuickBooks Online Accounting Software
Last but not least, if you want to stick with the QuickBooks brand—but you want a more accessible accounting software—then consider QuickBooks Online over QuickBooks Desktop Pro and Premier. Just like Xero accounting software, QuickBooks Online is a cloud-based accounting software that is priced on a monthly basis. The versions of QuickBooks Online—Simple Start, Essentials, and Plus—will cost $25 a month, $40 a month, and $70 a month, respectively.
Skytrend Consulting is an accounting software solutions company. When it comes to implementing suitable and cost effective accounting software solutions for your business, we are the EXPERT!
Need an accounting software for your business? Hotline: Call or Whatsapp 0803 385 7245 or 0803 239 3958. If you also have an article or review on financial implementation or an accounting solution you want us to publish, send to blog@skytrendconsulting.com.
READ ALSO! Accounting software implementation: 5 key stages in a new accounting system
READ ALSO! Skytrend Consulting: Financial services and accounting solutions company
READ ALSO! SAGE 50 ACCOUNTING SOFTWARE: 8 KEY BENEFITS FOR YOUR BUSINESS
READ ALSO! SAGE 50 PEACHTREE ACCOUNTING SOFTWARE – ALL YOU NEED TO KNOW
READ ALSO! BBNaija Dorathy Launches Lingerie Line, Says Priority Is Making Busty Women Look Good
READ ALSO! How To Empower Yourself And Generate Income From Mutual Funds
READ ALSO! Why The North Remains Headquarters Of Poverty In Nigeria — Kingsley Moghalu